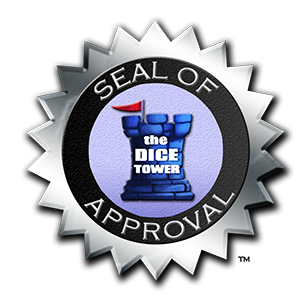 The award winning Catacombs Cubes bundled with the Monuments expansion. Includes a bonus promo tile.
The game features:
Solo Mode included
Enough components to support four players with the base game
Features characters and places from the world of Catacombs
Plenty of theme (not an abstract title)
Different game modes (competitive vs passive)
Two resources drafting mechanics included in the box (dice vs tiles)
Received Dice Tower Recommends Award.
The Monuments expansion features:
 Regulus, the Vampire Lord Character (1x player board and 5x tracker pieces)
 Beeble, the Dwarf Miner Character (1x player board and 5x tracker pieces)
Five & Six Player Support!
4x Wooden Quarry Dice
16x Quarry Tiles (for the new resource pieces)
5x"Gold" Wood Resource Pieces (New type of resource!)
5x "Marble" Wood Resource Pieces (New type of resource!)
5x "Obsidian" Wood Resource Pieces
2x Ownership trackers for each of the base game characters (to support the new "Monument" tiles)
14x Monuments Tiles (New type of tile!)
3x "Park" Village Tiles (New type of tile!)
10x Additional Village Tiles
4xAdditional Residence Tiles
4x Additional Palace Tiles
1x Alternate Town Hall Tile